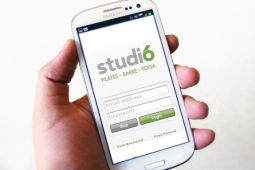 How to Book a Class
After creating a profile on our website, you can reserve a spot in one of the classes. Studio 6 Fitness offers classes from early in the morning into the evening. All classes use the S6 machine.

What to Bring
Grip socks. They are required for all of our classes. They give you the traction needed to maximize stability and safety while on the machine. Available for purchase or rental.
Water. We encourage you to bring a water bottle to have next to you during class. We do have water fountains and bottled water available for purchase.
Comfortable Clothes. Be comfortable but don't wear clothing that could potentially get caught in the springs or other parts of the machine.
Attitude. Bringing a great attitude will give you the motivation to push through to new levels of strength, flexibility, endurance and balance.

What to Leave
Jewelry. It's not a good idea to wear any kind of jewelry that might get caught on the machine.
Strong perfume. You're going to sweat and some people are allergic.
Cell Phone. We want all of your attention focused on your workout so leave it at home, in the car or in the cubby on silent.

When to Arrive
Arrive to your first class at least 10 minutes early. You will need to check in and sign a waiver. Then, get acquainted with our studio and the equipment. Shop our great selection of fitness gear, fashion and accessories too! This is a great time to ask any additional questions.

What to Expect in Class
We have cubbies for your shoes, keys, phone and other personal items. After storing your things, grab your water and pick a machine. Let the instructor know that you are new, so he or she can keep an eye on you and give some helpful cues. Arriving early will give the instructor enough time to give you a tour of the machine.
Classes are 50-minutes and incorporate 20–25 high intensity, low-impact movements designed to push your muscles to the point of fatigue. The S6 method builds long lean muscle that continues to burn fat long after your workout is complete. Movements are controlled and transitions are quick to keep your heart rate up. Our workouts are designed to incorporate 6 essential elements for total body wellness: core, strength, balance, flexibility, endurance and spirit.
The last part of class is a time to stretch out your muscles. Everyone is given a wipe to clean their machine. Clients also reset the handles, springs and equipment to prepare for the next class.

What to Expect Post-Workout
Many of our clients experience muscle soreness over the next several days, especially if you don't do a Pilates-style workout regularly. You may find muscles that you didn't even know you had will be sore, but it's a good thing – we promise!
You are working your body to the point of fatigue so give it a few days to rebuild and then get back in the studio with us. Clients who come 2-3 times a week see great results in only a couple of weeks. You know your body best, and we are here to help you get everything you want from your Studio 6 Fitness workouts!
Feel the difference in
sessions