Deirdre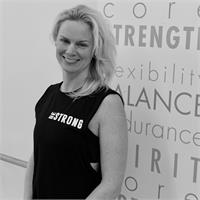 Deirdre has over 20 years of experience in healthcare and fitness, and is a firm believer in Pilates based exercises, becoming first certified in 2003 while working as a Physical Therapist in London, England. There she saw the benefits of core stabilization exercises in all ages and in all types of people. She loved seeing her clients achieve their goal and reach their potential from working these key muscle groups. Deirdre first jumped on a Megaformer at Studio 6 in 2014 and instantly fell in love with the Lagree workout and principles of Studio 6. When not working out or teaching at Studio 6, Deirdre is kept busy with her two hockey-loving sons, working as a Physical Therapist and traveling with her family.
Deirdre instructs the following:
Our signature class utilizes the patented Megaformer™ to provide a total body, high-octane, muscle quivering workout that melds cardio, strength training and Pilates. You will gain endurance, improve flexibility and strengthen and tone your body in ways traditional exercises cannot. High-energy music carries you through the heart-pumping workout with results you'll see and feel in 50 min.




If this is your first class or you haven't been in a while, this form-focused class is for you. Our signature workout on the Megaformer™ focuses on fundamental moves, form and slower transitions. Expect the same high intensity, low to no impact movements to burn fat, build long lean muscle, and stabilize your core. Veterans are welcome, as this class is not only designed for new clients but for clients who wish to refine their performance on the Megaformer™. 50 minutes.