Katie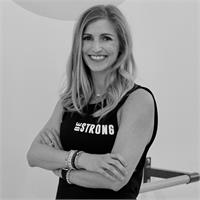 Born and raised in Columbus, OH Katie excelled as a competitive gymnast for over ten years. After many years of wear and tear on her body she has transferred her passion of fitness into group settings, experimenting with a number of new practices including Spinning, Yoga, BARRE, HIIT and Pilates. While she enjoys mixing up her routine, Studio 6 is the one must have in her weekly rotation. A perfect balance of strength and mega calorie burn in a low impact setting. As a self-declared Lagree junkie she now looks to inspire others to elevate their fitness routine in a safe and efficient way; creating a :50 minute workout that is challenging but fun, motivational, and leaves students feeling balanced and excited to come back for more. When not in class you can find Katie chasing around her two year old son who is a great alternative to cardio.
Katie instructs the following:
Our signature class utilizes the patented Megaformer™ to provide a total body, high-octane, muscle quivering workout that melds cardio, strength training and Pilates. You will gain endurance, improve flexibility and strengthen and tone your body in ways traditional exercises cannot. High-energy music carries you through the heart-pumping workout with results you'll see and feel in 50 min.