Madeleine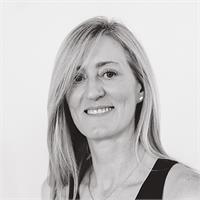 Madeleine is originally from England, but thinks of Texas as her true home now. She rode horses when younger and then became an avid runner, like a lot of people, injuries put an end to that activity. Boredom in gym workouts lead her to her first taste of pilates in 2011, but it wasn't until she joined Studio 6 Fitness in 2017 that she saw real results in both her physical stamina, energy and appearance. She loved the combination of full body workouts combined with strong encouragement and challenges. It became a passion from day one and has never waned. Madeleine believes Studio 6 Fitness is suitable for all ages and fitness levels and hopes to encourage clients to build on challenges one day at a time, and for them to discover with excitement how much they have achieved.
Madeleine instructs the following:
Our signature class utilizes the patented Megaformer™ to provide a total body, high-octane, muscle quivering workout that melds cardio, strength training and Pilates. You will gain endurance, improve flexibility and strengthen and tone your body in ways traditional exercises cannot. High-energy music carries you through the heart-pumping workout with results you'll see and feel in 50 min.




If this is your first class or you haven't been in a while, this form-focused class is for you. Our signature workout on the Megaformer™ focuses on fundamental moves, form and slower transitions. Expect the same high intensity, low to no impact movements to burn fat, build long lean muscle, and stabilize your core. Veterans are welcome, as this class is not only designed for new clients but for clients who wish to refine their performance on the Megaformer™. 50 minutes.




Mega ABS & ARMS is a one-of-a-kind specialty class that is unlike any other. Specifically designed to target you from the waist up, with advanced moves and super setting. This "lunge-free" zone will tighten, sculpt and tone your center core, obliques, arms, chest and back on our state of the art Megaformer™. Previous Megaformer™ experience strongly recommended. 50-minutes.