Kalyn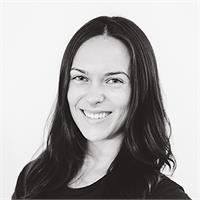 Kalyn is a yogi with a passion for hardcore workouts. Her captive interest in the fitness industry and love of movement led her to pursue a degree in Health and Wellness from TCU. Shortly after graduating she landed in Dallas to become a personal trainer. Since then, she has fallen in love with the practice and mindfulness of yoga and has been teaching since 2014. She continued to grow her body of knowledge by adding a Masters in Nutrition and most recently, learning the science behind the Lagree method! Her newfound passion for the Megaformer at Studio 6 Fitness has given her the strength necessary to further amplify her yoga practice and other fitness pursuits. Her favorite Megaformer exercise is the Side Kick due to it's strength training and endurance building benefits. Outside of the fitness and wellness world, Kalyn loves to travel with a goal of visiting 2 new countries per year!
Kalyn instructs the following:
Our signature class utilizes the patented Megaformer™ to provide a total body, high-octane, muscle quivering workout that melds cardio, strength training and Pilates. You will gain endurance, improve flexibility and strengthen and tone your body in ways traditional exercises cannot. High-energy music carries you through the heart-pumping workout with results you'll see and feel in 50 min.




Mega CARDIO SCULPT is a cardio based low impact workout that combines elements of HIIT and MegaPilates. The high intensity bursts of cardio paired with our signature moves on the Megaformer is the perfect combination to burn more calories while sculpting long lean muscles and building endurance. The 50-minute class focuses on strength training, working every major muscle group with an added aerobic element to get the heart rate up.




The perfect combination of core strengthening on the Megaformer™ with intense muscle burn at the Barre. By combining core moves on the Megaformer™ with cardio moves at the barre, you will get fit, get sculpted, burn fat and feel invigorated. Shaky muscles welcome. 50 minutes.




If this is your first class or you haven't been in a while, this form-focused class is for you. Our signature workout on the Megaformer™ focuses on fundamental moves, form and slower transitions. Expect the same high intensity, low to no impact movements to burn fat, build long lean muscle, and stabilize your core. Veterans are welcome, as this class is not only designed for new clients but for clients who wish to refine their performance on the Megaformer™. 50 minutes.




Mega ABS & ARMS is a one-of-a-kind specialty class that is unlike any other. Specifically designed to target you from the waist up, with advanced moves and super setting. This "lunge-free" zone will tighten, sculpt and tone your center core, obliques, arms, chest and back on our state of the art Megaformer™. Previous Megaformer™ experience strongly recommended. 50-minutes.