Sydney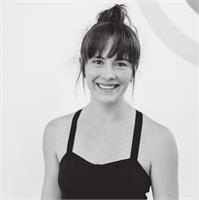 Growing up in East Texas, Sydney participated in everything from gymnastics and cheerleading to basketball before leaving for the big city to pursue a degree in Kinesiology from the University of Houston. While in Houston, Sydney took her first group fitness class and was hooked. This lead her to becoming a certified yoga teacher. When she moved to Dallas and discovered Studio 6 Fitness, she immediately fell in love with the workout and saw the many benefits and improvements it added to her yoga practice. When not at the studio, you can find her on her yoga mat, riding bikes with her husband, Matthew, and playing with her two pups, Bubba and Riley!
Sydney instructs the following:
Our signature class utilizes the patented Megaformer™ to provide a total body, high-octane, muscle quivering workout that melds cardio, strength training and Pilates. You will gain endurance, improve flexibility and strengthen and tone your body in ways traditional exercises cannot. High-energy music carries you through the heart-pumping workout with results you'll see and feel in 50 min.