Ashley R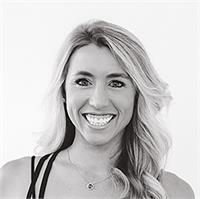 Ashley is a fitness devotee who loves new and challenging workouts. She is passionate about Studio 6 Fitness & the Megaformer for it's intensity, emphasis on abdominals, and low impact movements. Her classes will challenge you, build strength and have you shaking to the core. Along with being a certified Lagree Fitness instructor, Ashley is also a Registered Dietitian Nutritionist. When she isn't coaching on the Megaformer, you can find her running on the Katy trail or throwing the Frisbe for her dog, Fennel.
Ashley R instructs the following:
Our signature class utilizes the patented Megaformer™ to provide a total body, high-octane, muscle quivering workout that melds cardio, strength training and Pilates. You will gain endurance, improve flexibility and strengthen and tone your body in ways traditional exercises cannot. High-energy music carries you through the heart-pumping workout with results you'll see and feel in 50 min.