Austin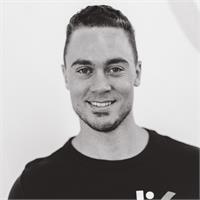 Austin has a strong background in gymnastics, dance, ballet and as a Navy SEAL candidate. In addition to being a trained dancer, Austin also trained with the United States Navy as a SEAL candidate for two years. After sidelined by a knee injury during SEAL training, Austin fell in love with Pilates during his rehabilitation. Austin loves the outdoors, and recently returned from trekking the Appalachian Trail for four and a half months- walking from Georgia to Maine! Austin is a certified personal trainer, in barre and currently training in the Lagree Pilates method and pursuing a degree in Nutrition. Austin loves being able to help clients achieve and live a healthy lifestyle. We are happy to have Austin at Studio 6!
Austin instructs the following:
Mega CARDIO SCULPT is a cardio based low impact workout that combines elements of HIIT and MegaPilates. The high intensity bursts of cardio paired with our signature moves on the Megaformer is the perfect combination to burn more calories while sculpting long lean muscles and building endurance. The 50-minute class focuses on strength training, working every major muscle group with an added aerobic element to get the heart rate up.




Our signature class utilizes the patented Megaformer™ to provide a total body, high-octane, muscle quivering workout that melds cardio, strength training and Pilates. You will gain endurance, improve flexibility and strengthen and tone your body in ways traditional exercises cannot. High-energy music carries you through the heart-pumping workout with results you'll see and feel in 50 min.




Flexibility is one of our 6 principles at Studio 6 Fitness and in honor or our 6 year anniversary we are offering a 40 minute MEGA STRETCH class on the patented Megaformer. All movements performed in MEGA STRETCH are focused to enhance recovery from your workout rather than creating a workout in and of itself. Stretching keeps your muscles strong, flexible and healthy. By lengthening your muscles, you will improve your posture, relieve stress, improve circulation and increase flexibility. This specialty class welcomes all fitness levels and is 40 minutes. Sign up now and LETS STRETCH OUR LIMITS.