Jason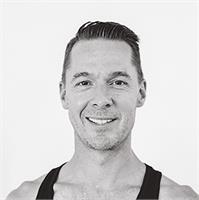 Sports and fitness have been integral part of Jason's life, from an early age he was a competitive swimmer and parlayed that into 6 years of being a certified swim instructor and lifeguard, throughout high school and college. He grew up in New Mexico and during the winters was also a snow ski instructor. During college he began an avid running career, averaging 20 - 30 miles a week, progressing to half marathons, then on to competing in triathlons. As a remedy for the aches, pains, and tightness that was associated with running and triathlon training, he started an aggressive yoga practice A broken femur ended his running and triathlon career. His personal trainer introduced him to Studio 6 as a rehab and pre-hab, preventing injury, during of their intensive HIIT training program and he has been hooked ever since. In his word, 'The Megaformer is exactly what I needed, intensity without injury."
Jason instructs the following:
Our signature class utilizes the patented Megaformer™ to provide a total body, high-octane, muscle quivering workout that melds cardio, strength training and Pilates. You will gain endurance, improve flexibility and strengthen and tone your body in ways traditional exercises cannot. High-energy music carries you through the heart-pumping workout with results you'll see and feel in 50 min.