Tom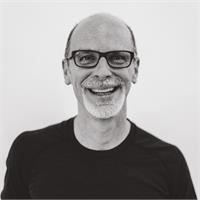 Tom's been teaching software for over 20 years. After decades of sitting behind a computer screen with zero physical activity, Tom had his fitness awakening in 2014. As a late bloomer, once he started moving, he quickly dropped 40 pounds and has been an avid fitness enthusiast ever since. With long walks, daily cardio, and weights, he transformed himself in his 50s! Yoga turned out to be something Tom excelled at and within a year, found himself being asked to be a substitute instructor. Helping fellow yogis through tough routines and hit the poses with correct form, he found helping students reach physical goals as rewarding as communicating tough ideas to students in the classroom. In 2016, Tom discovered the Megaformer™ and was immediately addicted. Yoga got pushed way back so there was more time to focus on the Megaformer and the Lagree method. He could not be more enthusiastic about becoming a Studio 6 Instructor!
When Tom isn't coaching on the Megaformer, he can be found taking as many Studio 6 Megaformer classes as he can fit into his schedule.
Tom instructs the following:
If this is your first class or you haven't been in a while, this form-focused class is for you. Our signature workout on the Megaformer™ focuses on form and slower transitions. This is still the same full body, low impact workout you crave. 50 minutes.




Our signature class utilizes the patented Megaformer™ to provide a total body, high-octane, muscle quivering workout that melds cardio, strength training and Pilates. You will gain endurance, improve flexibility and strengthen and tone your body in ways traditional exercises cannot. High-energy music carries you through the heart-pumping workout with results you'll see and feel in 50 min.