Linda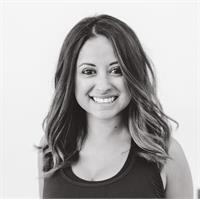 Linda started taking ballet at the age of 3. Over the course of 15 years she expanded to many disciplines of dance, including Mexican Folkloric, Flamenco, Tap, Jazz/Hip-Hop and Ballet.
A native Texan, Linda completed her Bachelors and Master degree in Dietetics at the University of Texas Health Science Center. With a true passion for wellness and proactive care, Linda enjoys developing wellness plans to help others reach their goals.
After graduation, Linda discovered Studio 6 Fitness and was instantly hooked. She fell in love with the Lagree Fitness Method™, and knew there was no workout experience like the Megaformer™! In the studio, Linda teaches a music-driven, athletic and challenging class that changes you mentally and physically.
On her off time, Linda loves to travel and spend time with her family and puppy, Reyna!
Linda instructs the following:
Our signature class utilizes the patented Megaformer™ to provide a total body, high-octane, muscle quivering workout that melds cardio, strength training and Pilates. You will gain endurance, improve flexibility and strengthen and tone your body in ways traditional exercises cannot. High-energy music carries you through the heart-pumping workout with results you'll see and feel in 50 min.