Kerry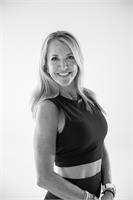 Kerry is a known fitness enthusiast and loyal client since meeting Sebastien Lagree and training with him in 2012 at Studio 6. Self motivated and dedicated to fitness, Kerry was an avid runner, tennis player and kick boxer for years. Due to overuse and her extreme high impact work-outs, Kerry developed a knee injury and her sports physical therapist recommended Pilates as part of her rehabilitation to build strength. She is constantly challenging herself to elevate her fitness level while protecting her joints, which reinforces her passion for Lagree Megaformer workouts at Studio 6. When she's not training, you can find her with her family (husband Judge, also a Studio 6 client, and two sons Dutch & Cash), on the tennis court, pursuing entrepreneurial interests and enjoying time with friends. You can always count on a challenging and intense workout when you sign up with Kerry.
Kerry instructs the following:
Mega ABS & ARMS is a one-of-a-kind specialty class that is unlike any other. Specifically designed to target those trouble areas. Expect to tighten, sculpt and tone your upper body & mid-section on our state of the art Megaformer™ in this lunge free zone. 50-minutes




Our signature class utilizes the patented Megaformer™ to provide a total body, high-octane, muscle quivering workout that melds cardio, strength training and Pilates. You will gain endurance, improve flexibility and strengthen and tone your body in ways traditional exercises cannot. High-energy music carries you through the heart-pumping workout with results you'll see and feel in 50 min.




Is this your first time to our studio? Has it been awhile since you've attended a class? This beginner class introduces you to the Lagree Method, the Megaformer and has a slower transition pace. Mega LITE will guide you through the essential Lagree exercises and focus on form and technique. This specialty class will offer the same full body, low impact workout you crave. We want you to have fun and make it your own! 50-minutes.