Emily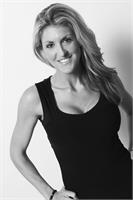 Emily is a dedicated instructor with intense and challenging classes that focus on form and smooth transitions that will keep you coming back for more.
Emily's determination to lose the 70 pounds she gained after her pregnancy led her to her discovery of Pilates. In 2008, Emily became a certified Power Pilates Instructor and a Cooper Institute Certified Personal Trainer. Emily continues to travel to Hollywood several times a year to attend Sebastian Lagree's ongoing training on the Megaformer and is currently certified. Today, Emily shares her passion for fitness and nutrition with others and specializes in body sculpting and transformations.
Emily has competed in several NPC Fitness Bikini Competitions where she placed in the top 5!
Emily is one of our senior level instructors and Training Coordinators at Studio 6 Fitness.
Emily instructs the following:
Is this your first time to our studio? Has it been awhile since you've attended a class? This beginner class introduces you to the Lagree Method, the Megaformer and has a slower transition pace. Mega LITE will guide you through the essential Lagree exercises and focus on form and technique. This specialty class will offer the same full body, low impact workout you crave. We want you to have fun and make it your own! 50-minutes.




Our signature class utilizes the patented Megaformer™ to provide a total body, high-octane, muscle quivering workout that melds cardio, strength training and Pilates. You will gain endurance, improve flexibility and strengthen and tone your body in ways traditional exercises cannot. High-energy music carries you through the heart-pumping workout with results you'll see and feel in 6 sessions! 50 min.